Copenhagen style bikelanes for Melbourne
BIKE

lanes of the "Copenhagen style" will be introduced in East Melbourne's busy Albert Street.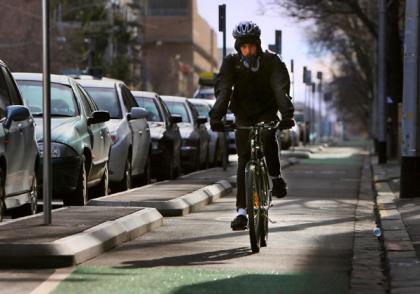 The Melbourne City Council has issued a planning permit for the lanes, which will be similar to those already in Swanston Street, Carlton, and will separate cyclists and other traffic with a 30-centimetre rumble strip and parking lane.
Lord Mayor John So said lanes would improve access to the city's cycling network.
"These new dedicated bike lanes will provide a direct and efficient link between the current bicycle lanes in Elizabeth Street, Richmond, and the CBD," he said.
Bicycle Victoria's general manager, Harry Barber, said he was delighted, as the lanes were the only way to increase access to the city.
He said the new lanes would probably double the number of cyclists using Albert Street in the mornings to 200 an hour.
In peak times, Albert Street will remain a two-lane road, with a bike lane and a separation line.
Outside peak times there will be a one-lane road, bike lane and parking lane.
Melbourne City Council's planning committee chairwoman, Catherine Ng, said a safer environment for cyclists would encourage more. But the news will not be welcomed by many tenants of Albert Street, including the Master Builders Association of Victoria.
Its executive director, Brian Welch, said the lanes were a bad idea. "Our primary concern is that Albert Street functions as an exit and entry point for the city, and reducing it one lane either way during business hours means there is going to be a great deal more congestion," he said.
The Victorian Employers Chamber of Commerce and Industry, also based in Albert Street, expressed concern.
Its chief executive, Wayne Kayler-Thomson, said the lanes were ill thought-out and counter-productive, especially when a more suitable alternative was available.
"Alternatives such as Victoria Parade have been dismissed without appropriate investigation," he said.
"Putting a bike lane down the middle of the median strip would more effectively remove bikes from the dangers of road and pedestrian traffic," he said.
The Age 07/07/08